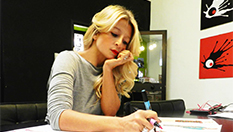 From 2003 Rossella Cannone's Studio offers 360 degrees consulting services on fashion style. The Studio born to support Companies that need creative and professional consultancy.
Rossella is experienced, highly specialized in fashion and graphic design. Her dynamic and multifaceted personality is the key success factor for The Studio. She is the best partner for the Apparel Companies that are looking for an innovative and evolving image.
The Studio is a style office, specialized in fashion design and illustration. The headquarter is in the heart of the beautiful Tuscany, Florence.
Rossella fuels her customer's future through her talent around fashion design and product development.
The Studio's goal is the product creation through high injection of creative content.
Rossella has worked with multiple companies in partnership and as freelance. The skillset acquired during the years allow her to support all the sample's stage. She enhances the image in each single step of the value chain. Her brilliant and skilled approach is always focused to satisfy the end customer needs.
The Studio's fundamentals are dynamism and creativity.
The offered services are directly agreed with Customer, to grant a professional relationship, tight to the Customer needs.
The Studio manages the following services:
• Italian and abroad Marketing's Searches
• Textiles, accessories and trend book research activities through Fashion Tradeshows or Exibitions
• Mood boards and Color Chart definition
• Collection's projects
• Model datasheet
• Graphic Tables (Placed prints and Embroideries)
• Print Samples and Production lab dib
• Color Variant Study to the relesellers network
The Rossella Cannone Studio follows the full realization's patterns and prototypes process, dealing of the monitoring, in cooperation with modellers service.
On Demand Services:
• Collection's Presentation to the sales network
• Arrangements of fashion show and events, photo shoots, in collaboration with stylist, art director and established photographers.
Rossella Cannone also has an own column, as Fashion Expert, on Tuscanypeople magazine.
"Voglio continuare a essere folle, vivendo la vita nel modo in cui la sogno e non come desiderano gli altri".
Paolo Coelho